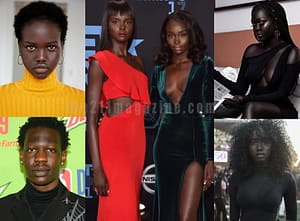 Instagram is one of the most used social media platforms not only in other parts of the world but also in South Sudan
. 
South Sudan models, basketball/football players, musicians, and other public figures have over the years created Instagram accounts to interact with their fans and audiences
. But do know you know who these popular South Sudanese are?
Some of them have been there for years but only managed to gain few followers whereas few who joined recently are growing their audiences
explosively
. Some have even got a blue badge in other their accounts are verified – a separate article for the verified accounts shall be published in due course.
In this article, based on the research our team made, we will see who is the most popular Junubi/Junubia on this platform that has over 1 billion monthly active users
.
The list is dominated mostly by models followed by NBA players and then, few musicians and football players follow. Surprisingly, there is no single politician on the list reason being is that South Sudan politicians are not fans of this social media platform.
The list is started with least followed and then most-followed. Without further ado, here are the most popular South Sudan Instagrammers.
25. Adut Bulgak
Adut Bulgak is a South Sudanese-Canadian professional basketball player for the Chicago Sky of the Women's National Basketball Association. She was drafted in 2016 to the New York Liberty.
Followers: 12,000
IG username: adutbulgak
24. Thomas Deng
Thomas Deng is an Australian professional football player who plays as a central defender for Urawa Red Diamonds in the Japan Professional Football League also known as J1 League.
Followers: 17,200
IG username: thomasdeng14
23. Winniy
Winniy is Adut Akech's elder sister.
Followers: 18,100
IG username: winniy
22. Dynamq
The South Sudanese reggae-dancehall artiste came to fame after releasing a number of hit songs in the last decade. Dynamq is one of the internationally recognized musicians from South Sudan.
Followers: 18,500
IG username: dynamq
21. Emmanuel Jal
At number 21 is our beloved South Sudanese-Canadian artiste, actor, former child soldier, and political activist Emmanuel Jal.
Followers: 19,800
IG username: emmanueljal
20. Awer Mabil
Awer Bul Mabil is an Australian professional association football player of South Sudanese descent who plays as a winger for FC Midtjylland. Born in Kenya, Mabil played youth football at the South Australian National Training Centre and with Adelaide United.
Followers: 22,700
IG username: awermabil10
19. Peter Jok
Peter Jok also is known as Kacoul Dut is a professional basketball player who plays for UCAM Murcia of the Spanish Liga ACB. Before signing for UCAM he played college basketball for the University of Iowa.
Followers: 24,300
IG username: jok_city14
18. Deng Adel
Deng Adel is a South Sudanese-Australian professional basketball player for the Long Island Nets of the NBA G League. He played college basketball for the Louisville Cardinals.
Followers: 31,100
IG username: foreverdeng22
17. Slate Nation
The Juba Juice hitmaker Ngot Peter Mou Athuai  aka SLate Nation who went to perform in Australia and never returned to Africa cannot miss on the list. Slate is among the artistes who are trying their best to raise the South Sudan flag in the music industry.
Followers: 33,100
IG username: slatenationmusic
16. Kuoth Wiel
Kuoth Wiel is a South-Sudanese-American model and actress, best known for her role in The Good Lie, a drama film portraying four child refugees from war-torn Sudan.
Followers: 39,500
IG username: kuothwiel
15. Shanelle Nyasiase
Shanelle who is in 10 most beautiful models from South Sudan in 2020 cannot miss being in this list. Ever since she signed with international modeling agencies, she gained more fans in and out of South Sudan.
Followers: 47,400
IG username: shanellenyasiase
14. Pione Sisto
Pione Sisto Ifolo Emirmija is a Danish professional footballer who plays as a left-winger for Spanish club Celta Vigo and the Danish national team. He began his professional career with FC Midtjylland of the Danish Superliga, making 113 total appearances and scoring 31 goals over five seasons. Born in Kampala, Uganda, to South Sudanese parents, Sisto moved to Denmark at the age of two months.
Followers: 63,300
IG username: sisto1995
13. Yar Deng
Yar is a 2-year-old South Sudanese-Australian model. She is the youngest Instagrammer from South Sudan. Her account is being managed by her parents.
Followers: 67,500
IG username: princessblossom.yar
12. Nykhor Paul
Nykhor is a South Sudanese-American fashion model. She was born in South Sudan and moved to a refugee camp in Ethiopia where she spent her childhood. In 1998 she moved to America and lived in Nebraska.
Followers: 79,500
IG username: nykhor
11. Grace Bol
Grace Bol is a South Sudanese fashion model best known for walking in the Victoria's Secret Fashion Show in 2017 and 2018. Bol signed for Why Not Model Management and The Lions agencies.
Followers: 81,400
IG username: gracebol
10. Alek Wek
Our number 10 is the mother of all South Sudan models, Alek Wek. She (born 16 April 1977) is a South Sudanese-British model and designer who began her fashion career at the age of 18 in 1995. She has been hailed for her influence on the perception of beauty in the fashion industry.
Followers: 137,000
IG username: msalekwek
9. Ajak Deng 
Ajak Deng is a South Sudanese-Australian model who was born in what is now South Sudan. Her family became refugees in Kenya before moving to Melbourne, Australia at age 11. Ajak modeled for Kelvin Klein, Valentino, and other big brands.
Followers: 140,000
IG username: ajakdengcom
8. Thon Maker
Thon Marial Maker is a South Sudanese Australian professional basketball player for the Detroit Pistons of the National Basketball Association. He attended high school at Orangeville District Secondary School and played basketball for Canada's Athlete Institute.
Followers: 164,000
IG username: thonmaker
7. Luol Deng
Related Articles:
Luol Ajou Deng (born 16 April 1985) is a South Sudanese-British former professional basketball player. He was a two-time NBA All-Star and was named to the NBA All-Defensive Second Team in 2012. Deng is now the president of the South Sudan Basketball Federation.
Followers: 368,000
IG username: luoldeng9
6. Anok Yai
Anok Yai is an Egyptian-born American fashion model of South Sudanese descent. She is the second black model to open a Prada show after Naomi Campbell, and the first South Sudanese model to do so. Yai currently ranks as one of the "Top 50" models by models.com.
Followers: 445,000
IG username: anokyai
5. Bol Bol
Bol Manute Bol is an American professional basketball player with South Sudanese heritage, for the Denver Nuggets of the National Basketball Association on a two-way contract. He played college basketball for the Oregon Ducks. He is a son of NBA legend the late Manute Bol.
Followers: 875,000
IG username: bolbol
4. Nyakim Gatwech
Dubbed as the Queen of Dark, Nyakim Gatwech, born on 27 January 1993 in Gambela, is an American model of South Sudanese descent. She has attracted attention for her dark skin colour and has achieved significant popularity on Instagram.
Followers: 928,000
IG username: queennyakimofficial
3. Adut Akech
Adut Akech is a 20-year-old model crowned as the model of the year 2019 and 2020 respectively. Born in South Sudan, she's a former child refugee who spent the first eight years of her life in Kenya's Kakuma Refugee Camp before moving to Australia.
Followers: 975,000
IG username: adutakech
Related: Is Adut Akech dating Nigerian Star Runtown?
2. Nikki Thot
Nikki Perkins aka Nyakuoth Thot (born April 2, 1990, in Khartoum, Sudan) is a Sudanese model and social-media celebrity. She grew up in Australia and is a known face in the fashion industry, as she has modeled for several top-notch brands and designers. Married to popular Australian "YouTuber" Jamie Perkins, she is currently a full-time vlogger. Nikki is Duckie Thot's elder sister.
Followers: 1,100,000
IG username: nikkithot
1. Duckie Thot
Nyadak "Duckie" Thot is an Australian model. She is the younger sister to Nikki Thot who is the 2nd on our list. Duckie made her runway debut at the Yeezy S/S 17 show is best known for being a face of Fenty Beauty as well as playing the lead role in the Alice in Wonderland-inspired 2018 Pirelli Calendar. She is currently the most popular South Sudan Instagram person.
Followers: 1,200,000
IG username: duckiethot
What do you think about these popular Instagrammers from South Sudan? You must be surprised by names that you did not expect to see on the list. Are there any people that you expect to be on the list but are not included? Let us know you thought in the comment below.
Copyright: The 211 Magazine