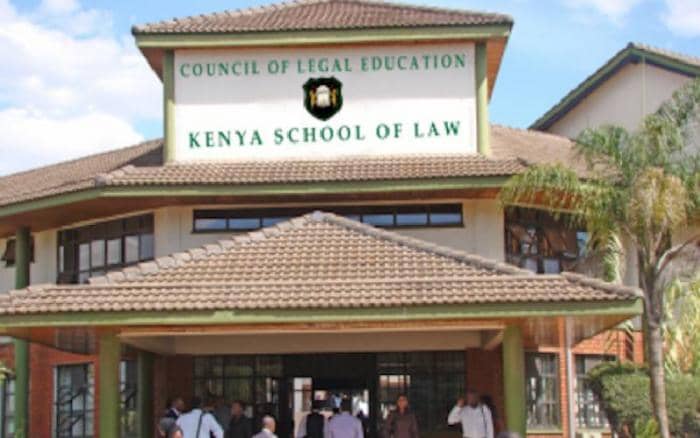 NAIROBI – Twenty-one (21) university graduates in Kenya have been directed to repeat secondary school for prerequisite qualifications before joining the only bar school in Kenya according to local media.
The affected were fresh graduates looking to join the Kenya School of Law (KSL) on Feb 3, 2020, after successfully completing their Bachelor of Laws (LL.B.).
Daily Nation on Tuesday, March 3, reported that students had studied under the International General Certificate of Secondary Education (IGCSE) in Kenya and Uganda after which they joined university.
The point of contention raised by KSL is that the graduates did not meet the requirements of the law program before enrollment.
KSL, therefore, declined to admit the graduates in the year 2019 unless they could attach their A level certificates and a secondary school qualification clearance letters from the Kenya National Qualifications Authority (KNQA).
Seven (7) of the students moved to court to challenge the decision but the ruling was rendered in favor of KSL and reinforced its position that the students provide the necessary documentation.
KNQA Director-General Juma Mukhwana, was quoted in the media as saying that some of the students were meant to start their studies at the diploma level as they had not met the necessary requirements to join the university.
One of the students affected sat for the Uganda Certificate of Education examinations then went to Kenya and joined university.
Yet even as the students bear the consequences of an imperfect enrollment process that gained them admission in the first place, the spotlight is on the universities that made it possible.
A report by The Standard on Jan 15, 2017, highlighted the rot that had settled in public universities.
There have been ongoing concerns over universities admitting ineligible students, certifying students who had not met minimum requirements for programmes and running unaccredited programs.
Former Education CS Fred Matiang'i addressing the issue provided that the systematic failure of universities could be laid at the feet of the Commission for University Education (CUE) for failing to carry out its mandate.
"The net effect of the poor state of the university sector is a reflection of, to say the least, the ineffectiveness of your commission (CUE) to carry out its mandate, as the sole legal body charged with the responsibility of ensuring quality in university education," Matiang'i was quoted in the media.
Source: https://www.pmldaily.com/news/2020/03/21-kenyan-graduates-studied-uganda-directed-to-repeat-high-school.html