According to South Sudan First Vice President press secretary James Gatdet Dak, leaders of Padang Community in the SPLM/SPLA (IO)—-from Upper Nile State—-met with the First Vice President of the Republic, Chairman and Commander-in-Chief of the SPLM/SPLA (IO), H.E. Dr. Riek Machar Teny-Dhurgon, in his office today, Wednesday, 8 July, 2020.
The Apadang community leaders in the IO, led by Elijah Awuol, said they registered their unwavering support to Johnson Olony, or any other nominee to become the Governor in Upper Nile State.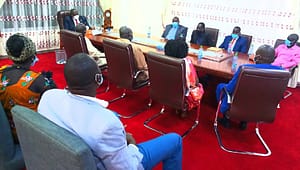 They emphasized their readiness as Cadres of the IO to support and work with Johnson Olony, if he becomes the Governor as decided by the leadership of the Party.
They also discussed with Dr. Machar a number of other issues including their would-be participation in the State government as well as at other levels and institutions of Government.
The delegation included representatives from different Counties or Constituencies of the community in the State.
Dr. Machar informed them of the upcoming inclusive consultative meeting with representatives from all the constituencies in Upper Nile state once a Governor is appointed.